2019 toy CAL / KAL: Butterflies, moths and things with wings
Our 2019 CAL / KAL is one of whimsy and delight!
I have decided to take a break from blankets, and instead do some small little things that add up to one big thing. The bonus of this type of project is you can either indulge in new supplies, or use up those little bits of scrap yarn you have floating around - the choice is yours!
Here's the plan:
Each month we will have a theme, and make some suggestions. Feel free to explore beyond our ideas, and make whatever takes your fancy. For every completed toy per month that you share in our Ravelry thread, we will enter you in to win a $20 HRYC gift voucher. 
In November, we will make a call out to gather all your toys (if they haven't been otherwise homed) at the shop. We will make up a fantabulous display of your creations, and do a combo of auctioning them off and donating them to a worthy children's charity. If you'd like yours on display but wish to keep it, that's perfectly ok by us too. 
January's theme, despite us starting off a bit late, is:
Butterflies, moths and things with wings!
I know lots of you have copies of Making magazine (yes we will have more soon), which always has a toy pattern. Here's a couple of them with wings:


Butterfly and Cocoon by Susan B Anderson from Making issue 2 - Fauna
Flower and Leaf Sprite by Susan B Anderson - from Making Issue 1 - Flora
And for other winged whimsies:
Tiny Chickens by Anna Hrachovec
Dirk the dragon by Lydia Tresselt / Lalylala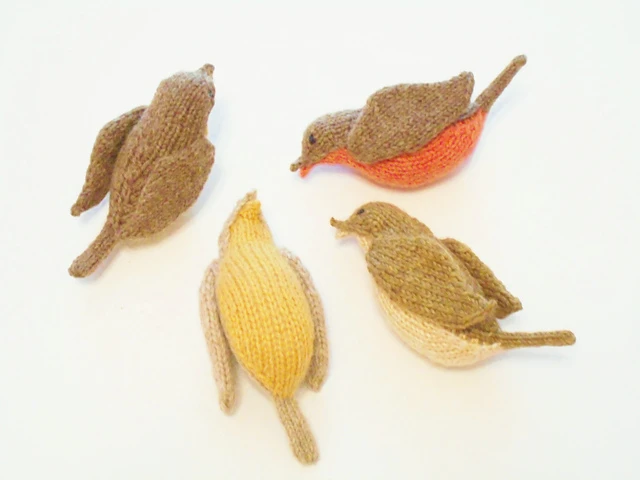 Songbird by Sara Elizabeth Kellner
Bonny Puffin by Yanina Schenkel
and last but not least, I have to have my favourite animal in here: a penguin!
Pinglewin by Anna Maltz
Do join us, we can't wait to see what you make!