HRYC
Ten years ago this October, I arrived back in New Zealand with a plan. I planned to start dyeing yarn, with the goal to use the funds generated to open a yarn shop. 
At that time, our local options were limited. The number of indie dyers were few, and i'd frequently walk in to my then LYS and back out again empty handed. Being in the UK and travelling Europe opened my eyes to what a yarn shop could be. I was determined to build in their mould, a place centred around people and the yarns crafters would delight in. 
Fun times in Petone 
Even then, I knew this wouldn't be my forever job. I didn't have an exit plan, aside from 'well if it doesn't work i'll sell everything'. I had very little to lose except time. When I started I didn't really think that much about making money, except needing to pay myself enough to cover rent and food. My growth plan was to push everything as far as I could without borrowing much and in turn increasing the risk level.
The last few years I have often thought about what's next. I've gone from a shop with barely any stock to shelves packed full. From it being just me and the support of friends and family to a number of staff.
Our first Grand Arcade Store window
Every time I mulled over closing up, I kept getting stuck on one single point: what about the customers? Where will they go for company, yarn fumes and care? I feel a responsibility to everyone who feels at home at Holland Road Yarn Co, those of you who have shared your difficulties and joys with us. It's an enormous privilege and I have a duty of care. 
This year I have been thinking about closing more often than not. Particularly with all the discussions around anti-racism and diversity in the knitting community, it's really struck me that I have more I want to offer the world. As I hear arguments that we aren't doing enough to take care of marginalised groups in our community, I agree absolutely. It's time for things to change. 
So I've made the incredibly difficult decision to change. I have skills that can be used for deeper and more meaningful change than I could ever hope to achieve through supplying you with yarn. It no longer sits comfortably with me to encourage consumerism in a world that is in climate crisis, where we should be making do with what we have, being more thoughtful in our buying, and considering the impact our lifestyles have on the world. 
It also comes down to some pretty hard facts: running a retail business means I never get time off. It demands being constantly available on social media, working every single day, and always having to-do lists running through my head. The impact it has had on my relationships and my mental health has been severe. 
Packing in to Lyall Bay with Elliott
So, what's next?
Business as usual for the moment! Come and see me at Knit August Nights this weekend if you're coming, I can't wait to see you!
I will be finishing up dyeing Knitsch, unless the mood to throw colour around strikes me. If you want some - get it while you can.
Once i'm back from KAN and had some recovery time, we will start up with some sales. Before that, you can let us know if you have any special requests, particularly for Brooklyn Tweed and Cascade. The last orders for those will be sent off on 4 September, so get in touch if they are on your to-knit list.
The plan is to be all finished up on 13 October. I will continue on with some yarn online, namely Scheepjes, Lopi and Quince & Co. So HRYC will still be around, just a bit smaller and less visible. 
I want to thank each and every one of the people who has walked through the shop door, either in-person or online since 2011. You have enriched my life in ways I can't even begin to communicate, and I won't ever forget it. 
xx Tash
PS Craft Camp and Knitters Dinners will continue! Because we still need to hang out <3
---
With Kate due to go on maternity leave in June, we are looking for someone to join our team!
Holland Road Yarn Co isn't just a shop, it's a place where we build a community of knitters and crafters. We really love our customers and bend over backwards to bring them the best possible yarn buying experience. We are a 21st century business who use all the technology at our disposal.
Our ideal colleague is:
- a true yarn-lover, a passionate knitter and well-versed in all things woolly
- can talk about knitting and projects until the cows come home
- knows Ravelry backwards and believes technology is essential to daily life
- can wrangle google docs and share inspiration in 140 characters
- crochet and /or spinning skills would be a bonus
- constantly looking to learn more about the craft
- comfortable with money handling and sales
- and, most importantly, have amazing people skills.
Our kaupapa is:
- We take care of the environment and work to be as low-waste as possible
- We are committed to being an inclusive and welcoming environment for Māori, Pasifika and people of colour, LGTBQI+, disabled, and those new to crafting
- We receive feedback with humility and always strive to improve 
There is one position available, on a fixed term 6 month contract to cover maternity leave. There is potential for it to become permanent, depending on how 2019/2020 turns out for us. The role is sole charge, so we need someone who can take the initiative but isn't afraid to ask questions if unsure about something.
The role:
Lyall Bay store
Wednesday and Saturday OR Friday and Sunday 10am - 4pm
with the potential for extra hours in winter, school holidays and as required
We pay the living wage!
General Duties:
Provide excellent customer service, both in-person and online.
Pack and ship customer and wholesale orders
Maintain a tidy and well-organised store
Receive and process stock
Knitting / crochet expertise
Administrative Duties:
Complete rolling stocktakes as required
Schedule classes, liaise with teachers and students
Responsibility for ordering from specific suppliers
Enter accounts payable invoices in Xero
How to apply:
Send your CV and cover letter to tash@hollandroadyarn.co.nz by 5pm Wednesday 1 May. Interviews will take place on 7 & 8 May and position commences (with training) Wednesday 22 May.
---
If you're new to knitting, or need a bit of a refresher, these fingerless mitts are a great project to start with. I recommend giving mitts a go over a scarf as a first project; they are (relatively) instant gratification and give you the chance to practice without a huge commitment in terms of materials. 
I've included links for each technique mentioned along the way, so get set up with your laptop or device, somewhere nice and comfortable. If you get frustrated, it's good idea to put your work down, walk away and come back to it tomorrow. 
What you need:
1 ball of Bandit DK (or about 50g of 8 ply yarn)
4mm knitting needles
Darning needle
The making:
Cast on 30 stitches
Knit every row until the fabric measures about 17cm long.
Cast off 30 stitches, leaving a long tail of yarn after you cut it. 
Make a second identical rectangle. 
Using a darning needle and the long tail of yarn, sew 10cm of the long sides together. Leave a 5cm gap, then sew together the remaining 2cm. This gap is for your thumb!
Repeat on the second rectangle.
Weave in the ends and wear!
---
As part of the annual Kanga Kiwi KAL, we're pleased to be hosting a meet-up! 
The Kanga Kiwi KAL is a celebration of all things NZ and Australia in the fibre world. To take part, you need to make something designed by a Kiwi or Aussie, with yarn produced in either of our fair countries. 
Here's a bunch of beautiful shawl pattern and yarn ideas we think would make for great projects to take part - be sure to pop by the Ravelry group and post your project!
If you fancy coming to hang out with us to share your projects or gain some inspiration, join us 1.30pm - 3.30pm on Wednesday 6 February (Waitangi Day) in the shop. It'll be lovely to see you!
Downpour by Handmade by Sminé - would look fantastic in Knitsch Sock
Go for stunning geometry with Amy van de Laar's Deco City Shawl 
Sticking with the drama, we still love Mary-Anne Mace's Mad Blood shawl (we even have Mad Blood Stirreth Knitsch in stock at the moment!)
and i'm going to be casting on Cetus Knits' Starry Nights using Dark Harbour Yarn from stash, plus something else once I have a hunt!
---
Our 2019 CAL / KAL is one of whimsy and delight!
I have decided to take a break from blankets, and instead do some small little things that add up to one big thing. The bonus of this type of project is you can either indulge in new supplies, or use up those little bits of scrap yarn you have floating around - the choice is yours!
Here's the plan:
Each month we will have a theme, and make some suggestions. Feel free to explore beyond our ideas, and make whatever takes your fancy. For every completed toy per month that you share in our Ravelry thread, we will enter you in to win a $20 HRYC gift voucher. 
In November, we will make a call out to gather all your toys (if they haven't been otherwise homed) at the shop. We will make up a fantabulous display of your creations, and do a combo of auctioning them off and donating them to a worthy children's charity. If you'd like yours on display but wish to keep it, that's perfectly ok by us too. 
January's theme, despite us starting off a bit late, is:
Butterflies, moths and things with wings!
I know lots of you have copies of Making magazine (yes we will have more soon), which always has a toy pattern. Here's a couple of them with wings:


Butterfly and Cocoon by Susan B Anderson from Making issue 2 - Fauna
Flower and Leaf Sprite by Susan B Anderson - from Making Issue 1 - Flora
And for other winged whimsies:
Tiny Chickens by Anna Hrachovec
Dirk the dragon by Lydia Tresselt / Lalylala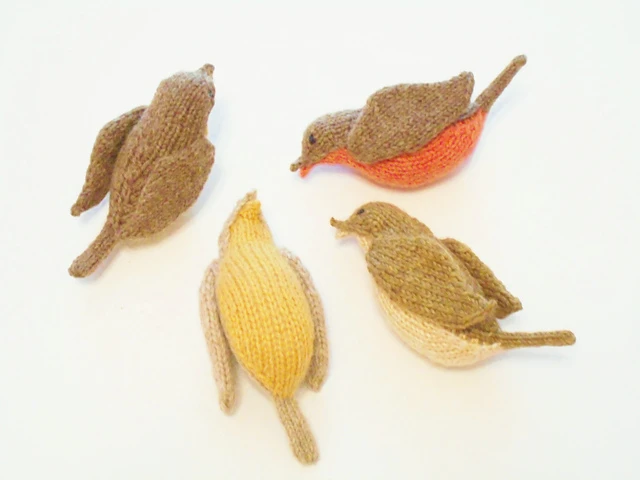 Songbird by Sara Elizabeth Kellner
Bonny Puffin by Yanina Schenkel
and last but not least, I have to have my favourite animal in here: a penguin!
Pinglewin by Anna Maltz
Do join us, we can't wait to see what you make!
---